MIDIBridge: control your favourite MIDI effects and instruments using your hands and fingers through AudioCubes.
MIDIBridge is an easy to use software application to use Percussa AudioCubes with your favourite MIDI instruments and effects. This way, AudioCubes becomes a powerful gestural audiovisual MIDI controller.
Use MIDIBridge to integrate AudioCubes in your live performance setup, DJ sets, sound design work, ... the possibilities are endless.
Check out the video below in which Colorado based artist Mark Mosher uses AudioCubes with MIDIBridge.
---
MIDIBridge
In MIDIBridge, you can use AudioCubes to generate note triggers (when cubes are placed next to each other or turned), as well as generate continous control messages, which can be used to control parameters of your favourite MIDI compatible instrument or effect, similar to how a Theremin works: hand gestures control filter cutoff frequency, pitch, volume, etc.
For all you Open Sound Control geeks out there, we also have an OSC server, which works similarly to MIDIBRIDGE, but it's a command line application.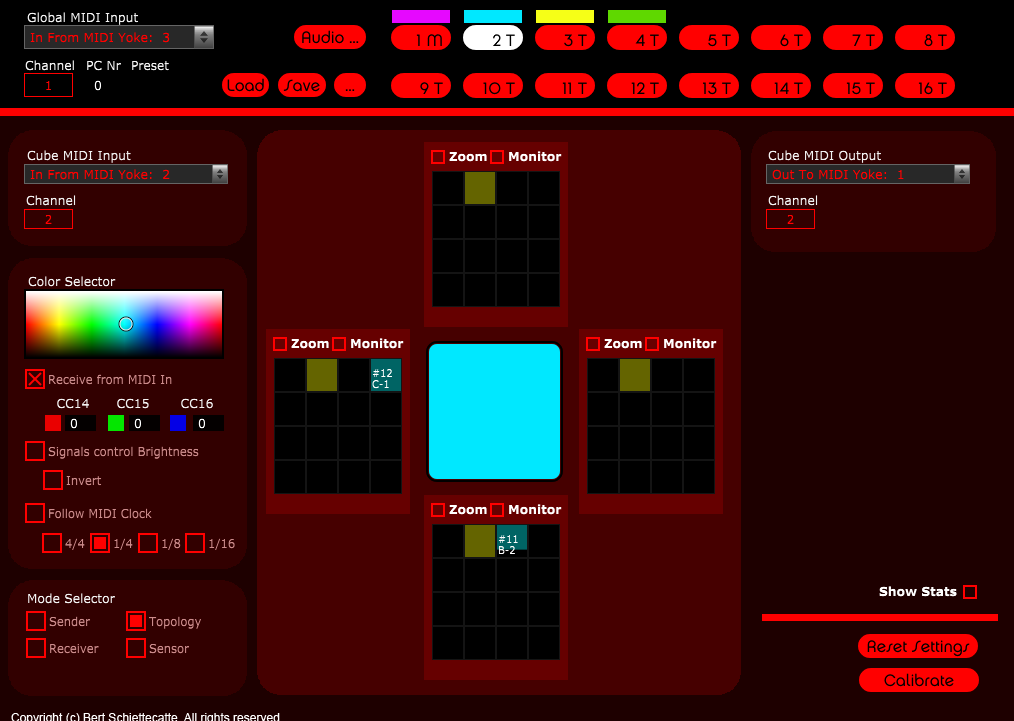 ---
Key Feature Summary for MIDIBridge
Built in full colour RGB lighting with 12bit resolution
Colour mixing through automation in your DAW
4 sensors per cube control 4 sound parameters in realtime
Use multiple cubes to control multiple effects/instruments
Colors can be synced to drum machine tempos
Sequence colours through MIDI control changes
High speed and low latency for great responsiveness
Sense distances in 4 directions per audiocube
Sync colors to DJ software beat clock via MIDI
Link colours to distance information
Compatible with your existing MIDI hardware and software
Use cube position/orientation to trigger loops, sounds
Realtime colour mixing using any MIDI knob box
Match cube colours to video colours in VJ software
Control 4 parameters of sound using your fingers and hands
Turn effects/instruments on/off using location/orientation
---
Manual & Download
Learn more about MIDIBridge by checking out the MIDIBridge manual.
You can download MIDIBridge for free in the downloads section of our website
---